Hi, my name is Roy Woolliams. Joanne has asked me to write a blog about performing with Band-in-a-Box, but please let me tell you a little of how I came to be in music 
I have always loved country music, and in 1986 while demonstrating dog obedience with my Missy I heard the local Country music Club playing at the same venue. The next night, being Sunday, was their club night, so I went along and took my daughter Shari who would have been eleven years old, and the rest is history so to say. After going to the club for a while and singing and finding songs, I started to play an Instrumental on guitar called "Ghost Riders." This led to the formation of a band. 
I first heard of Band-in-a-Box around 1994 when I heard a couple of guys I knew performing with backing tracks but did nothing until my kids bought me Band-in-a-Box for my 50th Birthday and so started the journey with Band-in-a-Box. My daughter Shari and I performed as a duo for several years using backing tracks made from Band-in-a-Box, they were pretty rough but got better as time went on and it is only in the last few years that I have really got into entertaining and using Band-in-a-Box so here is what I do. 
First thing I do in making a backing track is pick the song I want and play it with my guitar to see how I want it to go. Not all songs go like the original and remember that you are not going to sound like the original, the song has to be yours and the way you want it. 
The next thing I do is get the lyrics and chords from the net by typing in the name of the song, e.g. "Your Cheating Heart chords." This will bring up sites and song. I use Ultimate Guitar site. Next, I copy and paste song to Word. You have to be careful here as when you increase the font size the chords move around and you will have to sit and work out where they go. Once you get used to this, it takes about five minutes. 
Next, it's back to Band-in-a-Box and to find a style. If I'm unsure of the beat I will get the song up on YouTube for a listen to see how the beat goes, e.g. is it rock, Jazz
Bass Vol 60 and Tone 6 reverb and Pan I leave alone 
Guitars Vol 45 and tone -2 
Piano vol 40 and tone 0 
Drums Vol 40 and tone 0 
Master this song 5 
It pays to play around until you get the sound you want. 
When all this is done, I save the song as a wma in its own folder. From there I use iTunes to convert to an iTunes mode ready to play. 
Performing with Band-in-a-Box is not easy as the beat, unlike a band, is unforgiving but once you get used to is it is cool! So once all my songs for the day are in the right set on my iPad, as I use this as my media player, I'm ready to perform. 
I use a Laney 210 PA system 400Watt it comes as two speakers a mixer and amp and a storage box with cables and a mike. I use a Sure58 Mike and sometimes an AKG remote Mike. The beauty of the Laney system is it has a media player on board so if you don't have an iPad you can put all your song onto a USB stick and if you put them on in the order they will play. 
Once my system is set up, I connect my Guitar to the mixer and also my iPad using the blue tooth mode, saves cables. I'm also using a remote system on guitar as I not only sing and play, but I also play Instrumentals of songs I like and of the Shadows, Ventures, and the likes. 
You can have your iPad on your mike stand or as in my case I have made a little board for it to sit on and it sits on top of the mixer. I should also mention that I sit the mixer on a solid music stand now a sound check and I'm ready to go. 
Well, this may all sound easy but it is not. There are hours of practice goes into each and every song and still, on performance day, you get something wrong. But the discipline is in the timing, and quite often after a performance, you will come back to Band-in-a-Box and make changes, try another style take out or add another instrument. 
I have been using these backing tracks now for nearly twenty years, and I still get tripped up, but the big thing that has helped me with singing to backing tracks is karaoke. I have been singing karaoke for about three years now, and it has helped with my breathing and pronunciation. However, I don't use karaoke for my backing when performing, and that is just me. I do get some comments. "It's nice to hear someone not singing to records", as some of my audience comment. But I won't bag karaoke as some of my friends perform to karaoke track and make a good job. 
If I can help anybody out there with making of songs in Band-in-a-Box email me at varta58@yahoo.co.nz 
Cheers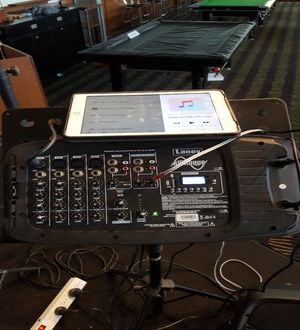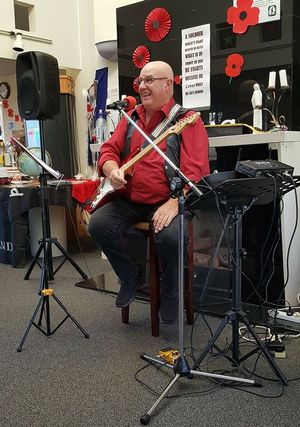 Roy Performing with Band-in-a-Box in this photo I am using USB stick played through media player. 
If you require any help email me 
Roy Woolliams 
Email varta58@yahoo .co.nz
Note from Joanne: If you want a detailed step-by-step guide on how to make and perform with Band-in-a-Box backing tracks, have a look at my eBook "Band-in-a-Box 101: A  beginners guide to making and performing with Band-in-a-Box backing tracks"