If you want a detailed step-by-step guide on how to make and perform with Band-in-a-Box backing tracks, have a look at my eBook "Band-in-a-Box 101: A  beginners guide to making and performing with Band-in-a-Box backing tracks"
Hello all
Welcome back and I hope you have a wonderful musical 2018. I am wondering how many of you have upgraded to the 2018 version of Band-in-a-Box yet. If you are serious about producing some great sounding music this year then it is a must. Here is a link to the list of new features and Realtracks on offer.  Band-in-a-Box 2018 for windows
One of the new features I could not wait to try out was the new "videotracks" feature. PG Music has made available the videos of the original artists recording certain Realtracks and has invited us to use these in our own videos. Here is an  original song called "The Paradox of you" where I tried out this amazing new feature.
Forum member Floyd Jane suggested I do a blog post on how I went about putting this together so here goes.
Note first, I used a combination of Band-in-a-Box, RealBand and NCH VideoPad to produce this song and this video. However, this whole process can be done entirely in Band-in-a-Box itself. You can record your vocal in Band-in-a-Box, you can choose to render multiple videotracks into one video file and you can even drag an external video file from windows explorer (for example if you have recorded a video file of you singing). The process I am going to describe may not be the correct (or even the easiest) one but it is the process I used for this song and this video and I hope gives you some ideas on how you can use the videotracks for your own projects.
Firstly, I made a backing track of the song using BIAB. For this song I knew I wanted to use the videotracks feature. To find all the Realtracks with videotracks available, open up the Realtracks picker for one of the instruments. Click the "Set" column so that BIAB sorts the list of Realtracks by "set" and have a look for where it says "videofound". These are the videotracks that come standard with the 2018 Ultra Pak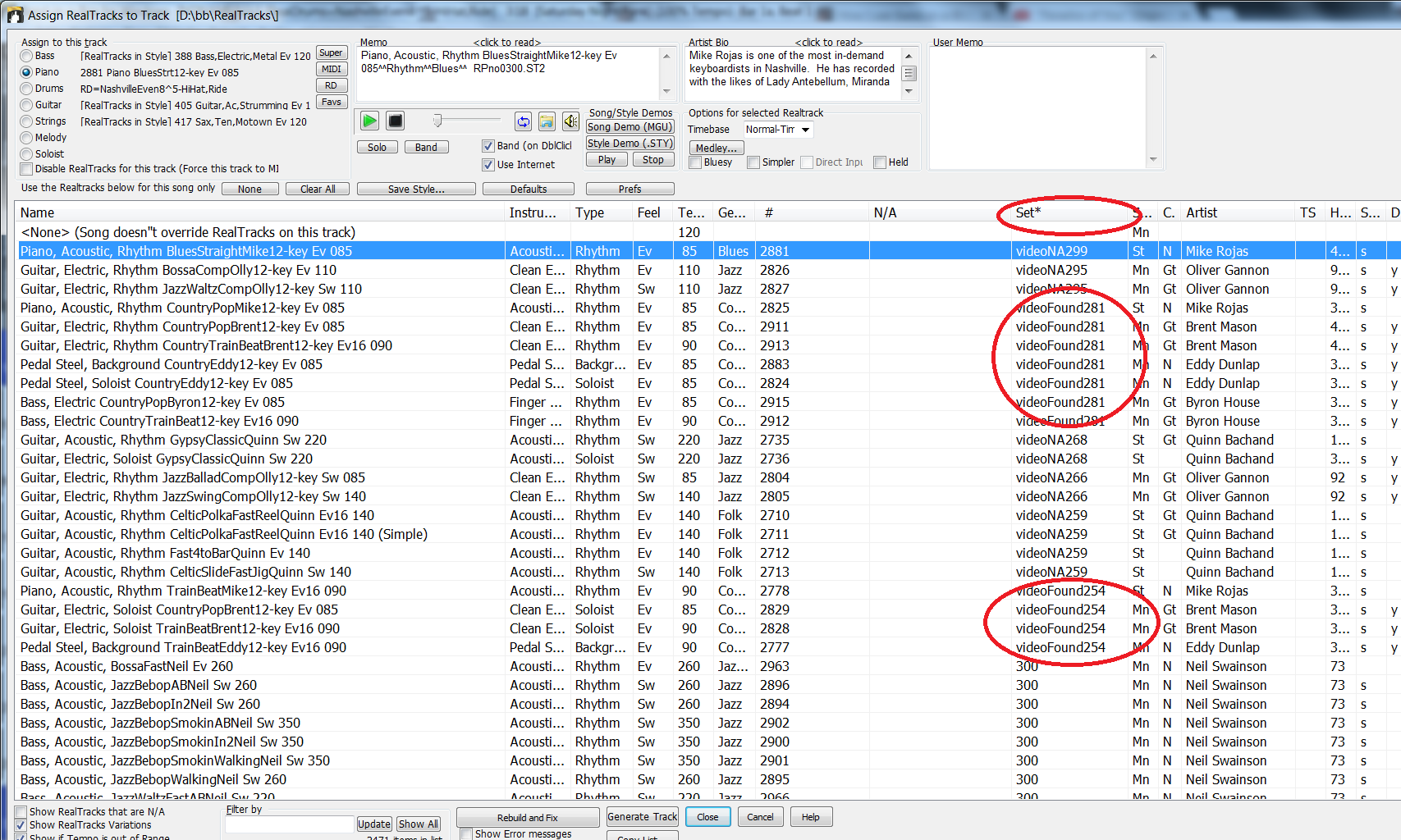 The ones that say "VideoNA" need to be purchased separately. You will see that Realtracks sets 281 and 254 have some videotracks in them.
I then went into the Style Picker and auditioned all the styles within the sets 281 and 254. 
I found the BULDOGS style had all of their Realtracks available as videotracks so I decided to use that one. (By the way, some of the styles in these sets have only one or two videotracks in them). I then finalised the tempo, key and structure of the song in Band-in-a-Box and saved it as a MGU.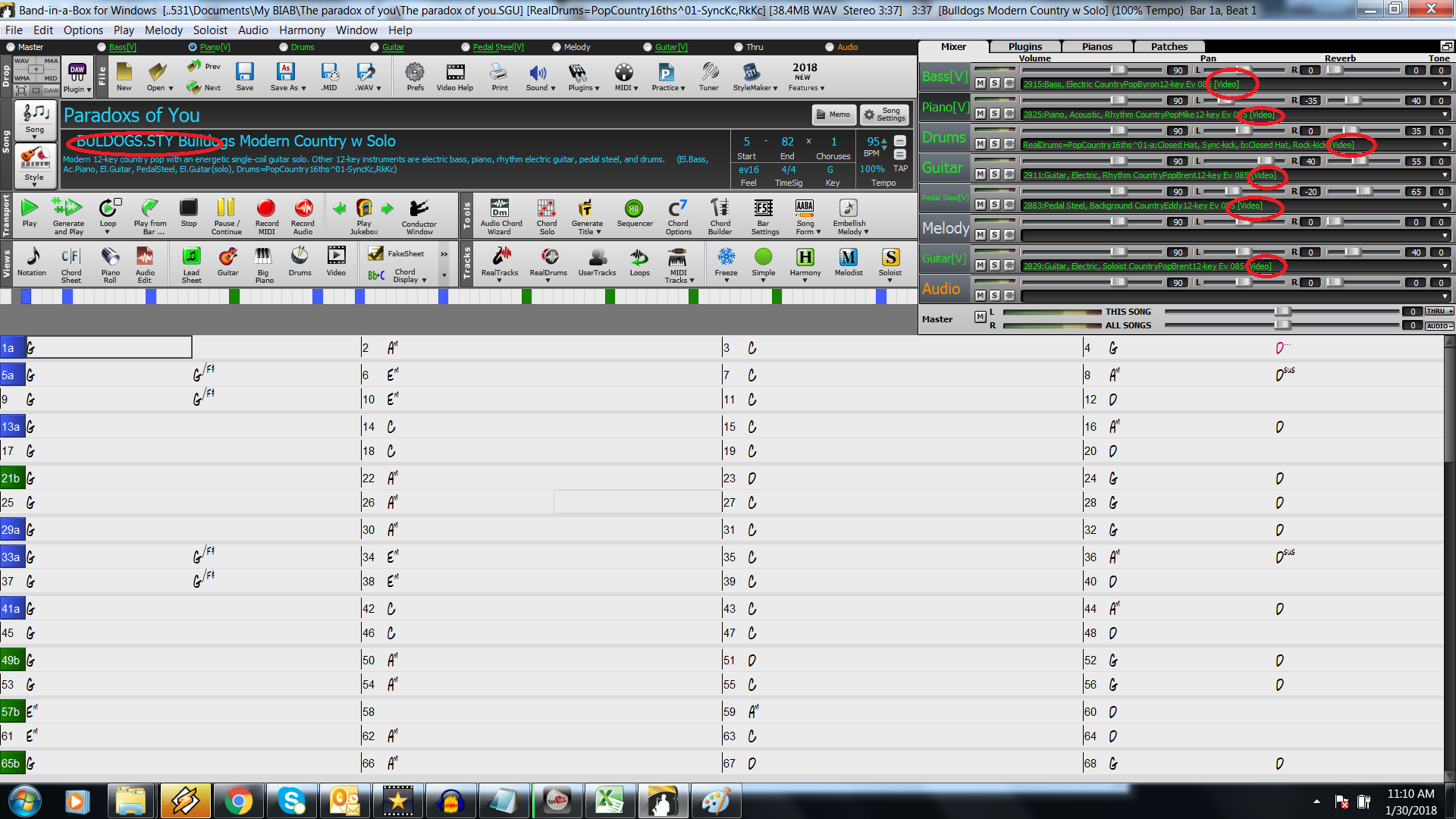 I then went into Realband to record the vocals and harmonies and to record myself recording the vocals. Sounds complicated? It certainly is!  Here's how I did it. I used a very nifty set up of a USB micophone, my laptop, my iPad, my iPhone (and some tripods).
I used a site called www.mysonglist.com on my iPad to display the scrolling chords and lyrics. This enabled me to look straight into the iPhone camera without having to first memorize all the chords and lyrics (which would have taken me a long time to get right and those who know me know I like to do things fast!)
I used my iPhone to video record myself singing the song and I used my laptop and the USB mic to record the vocal into RealBand. I also have a very strong photographer's light mounted above my desk which makes me look years younger! Here are is a photograph of this setup.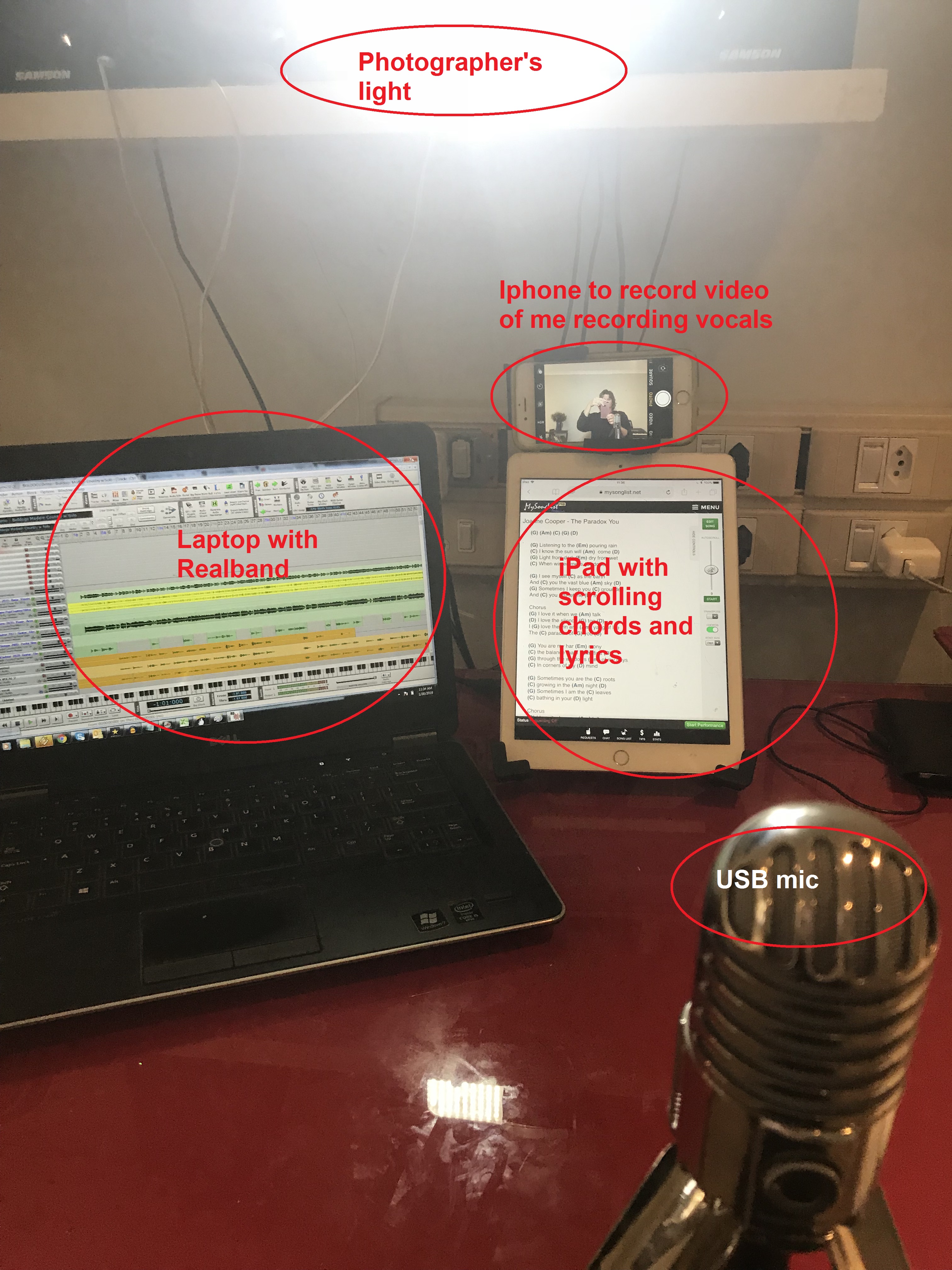 The challenge was to try and get everything started at the more or less the same time and not leave anything out!That took me a while to get right. Anyway, eventually I managed to record a take of the lead vocal into RealBand and record a simultaneous video of me singing and playing. I then recorded some additional harmonies, finalised the mix in RealBand and exported to a WAV file. 
I then went back into Band-in-a-Box and rendered each of the Realtracks into their own separate video files. To do this press the "Video" tab and chose "Render video".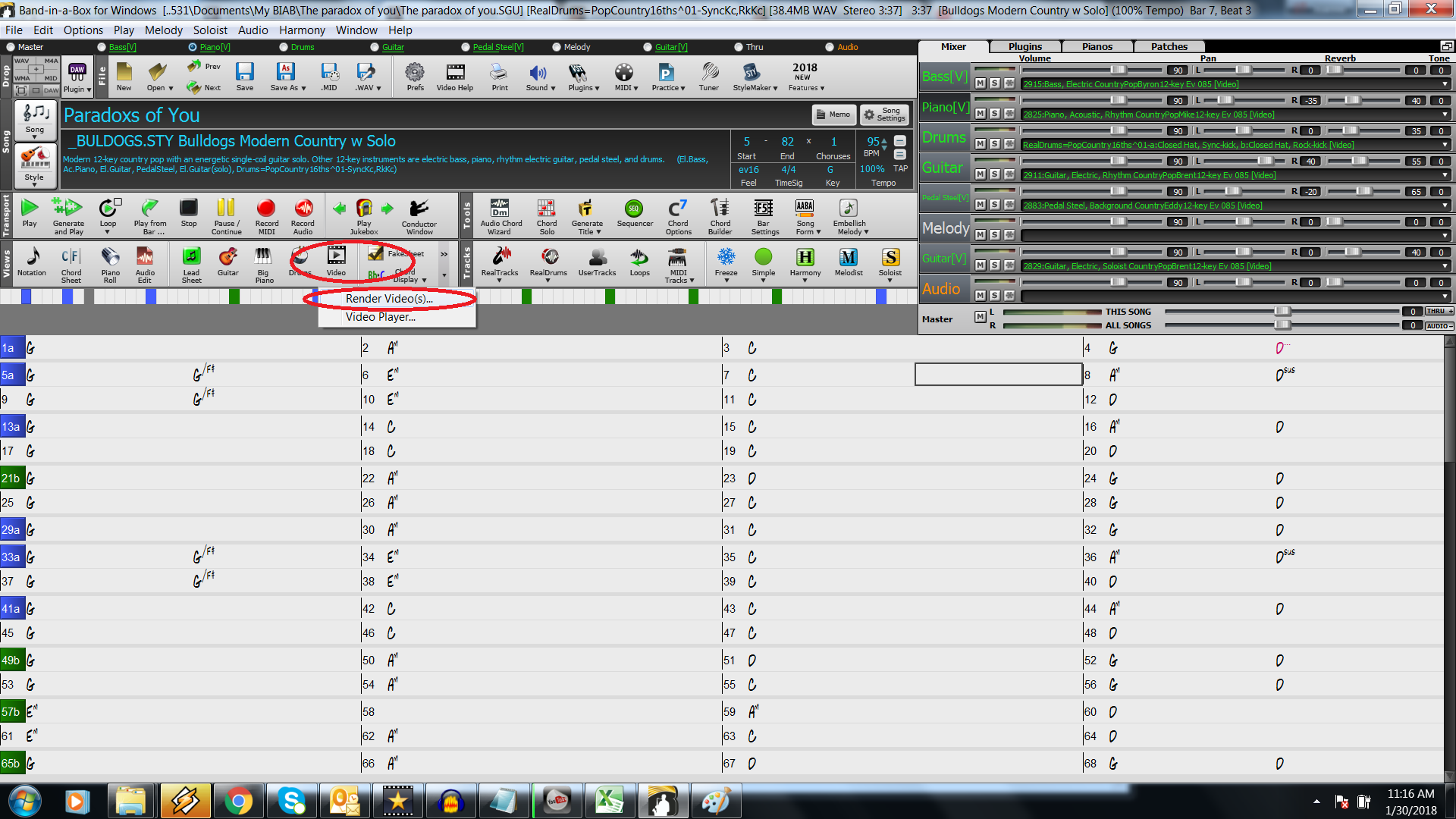 I then selected "Single" from the video layout drop down and picked up the bass track and dropped it into the space provided.  I then selected the "Render" button.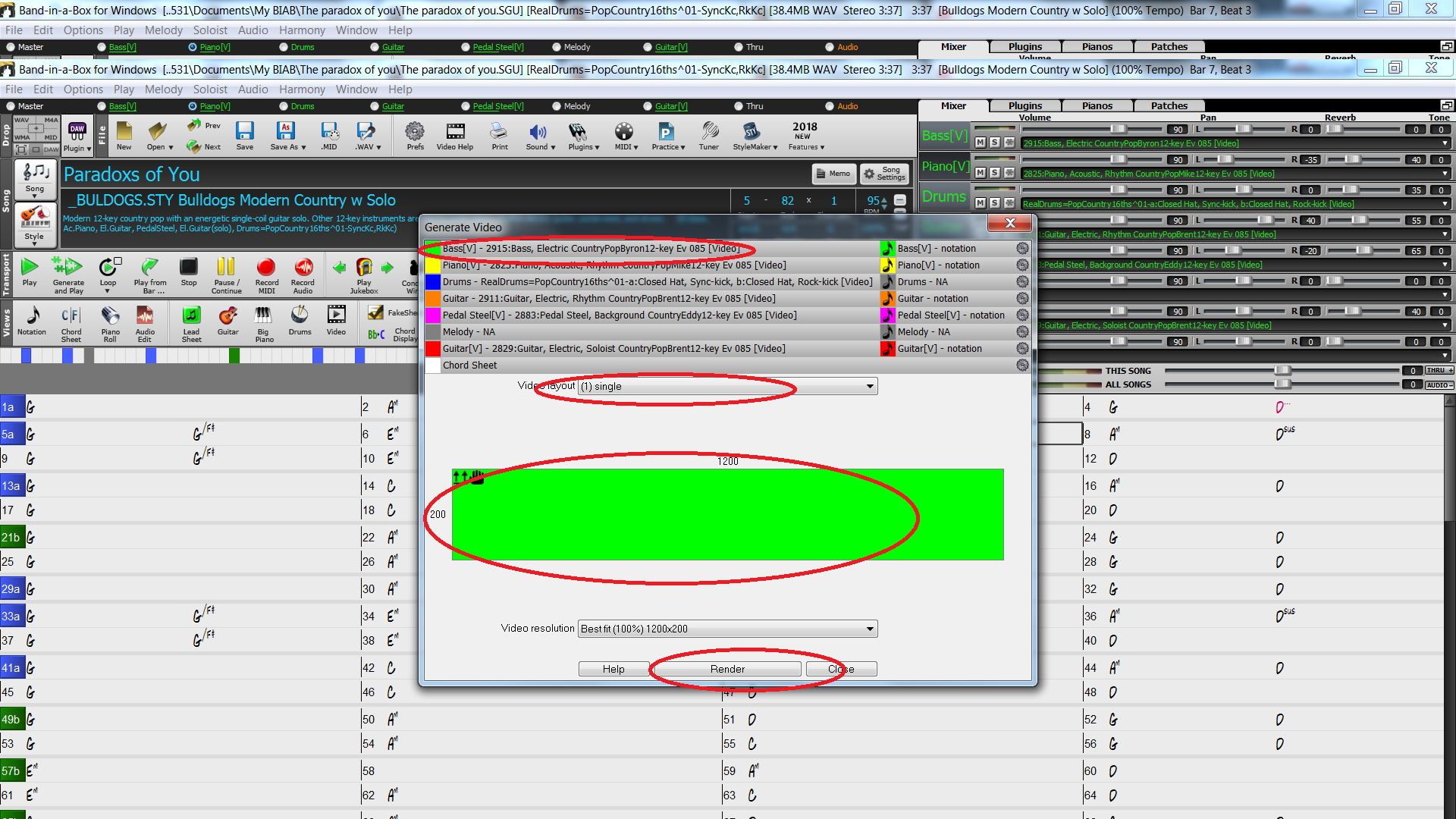 I repeated this for each of the videotracks available. For this style there were 5 video tracks, plus the video of me singing and playing = 6 video tracks. I then went into my video editing program. (NCH VideoPad), imported all the video files (all 6 of them) and the WAV file of the final song , (7 files altogether).I lined them all up correctly. In this way I used the visual video footage from the iPhone and the individually rendered videotracks from the Band-in-a-Box artists but used the audio from the final recording that came out of RealBand. This all takes a bit of practice but once you have it, it is a breeze and is a technique that can be applied to many music video projects.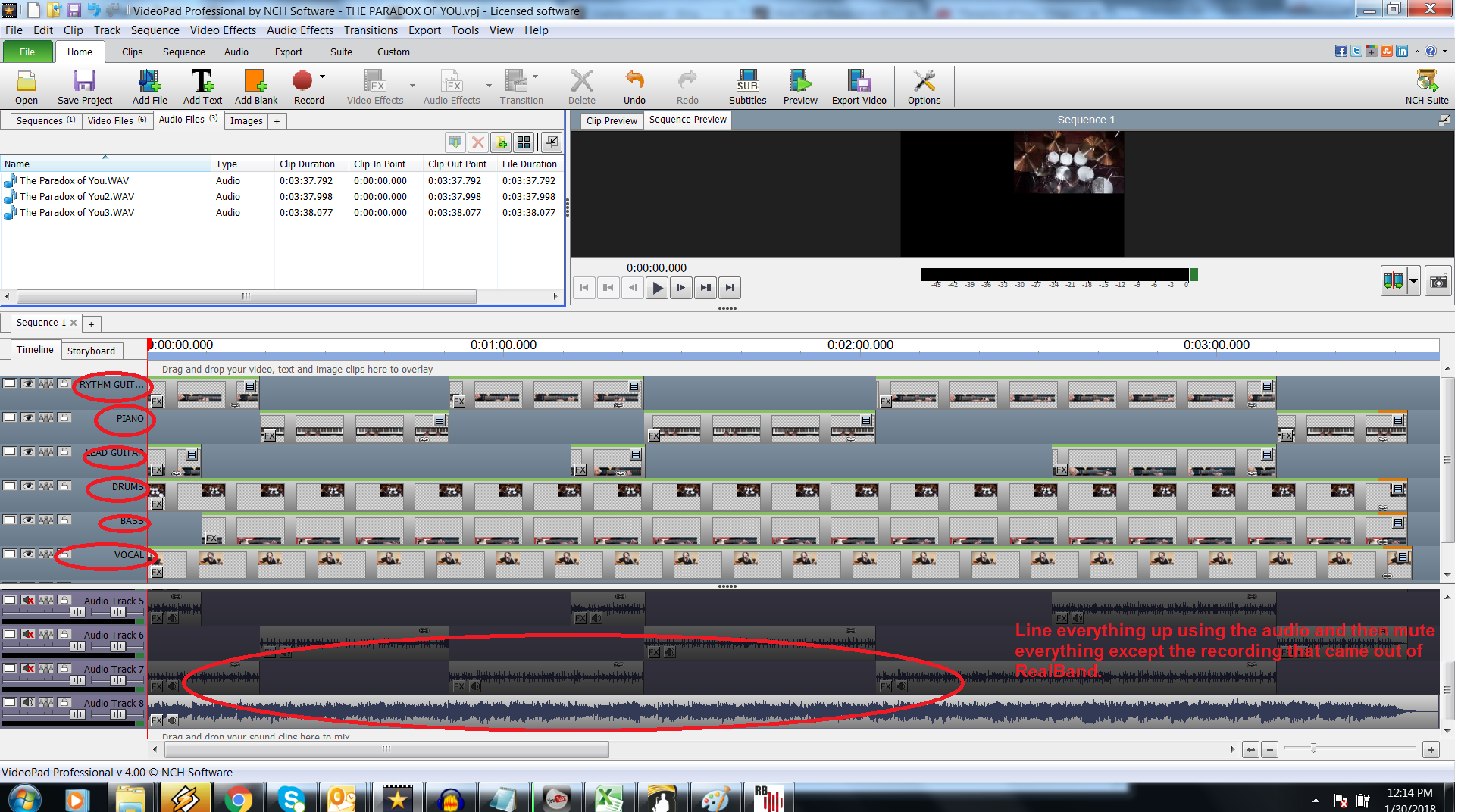 And that was it. I exported the NCH VideoPad project as an MP4 and uploaded to Youtube. Any comments or suggestions on this technique are, as always, very welcome.